While floundering on some parts of their agenda, notably a failed effort to repeal the Affordable Care Act and judicial challenges to their immigration ban, the Trump Administration has been mostly successful on its plan to radically deregulate polluting industries and remove protections for our air, water, health, and climate.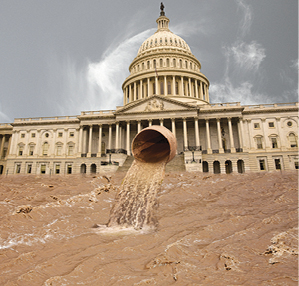 In his first months in office President Trump signed repeals of key Obama-era protections, including the
Stream Protection Rule
; the
Oil, Gas, and Mining Anti-Corruption Rule
; and Protections for Alaska's Wildlife. He also issued executive orders to fast-track construction of the Dakota Access Pipeline and the Keystone XL pipeline, and to begin to withdraw the United States from the Paris Climate Accord. Donald Trump's cabinet members, most notably EPA Administrator Scott Pruitt, have reversed or delayed environmental safeguards on everything from climate and clean energy research to chemical safety to methane pollution to lead bullets on federal land.
So it's no surprise that the assault on our health and environment continued throughout the summer. Below are just some of the actions taken by Donald Trump's executive branch in July and August:
EPA formally moves forward on rescinding the Clean Water Rule, which protects drinking water for 117 million Americans.
EPA moves to
roll back limits on toxic water pollution
from coal-fired power plants.
Department of Homeland Security
waives environmental protections
for Donald Trump's proposed border wall.
Department of the Interior proposes to
shrink some national monuments
. This will remove protections and open up land for mining or drilling.
Trump Administration
ends Climate Advisory Panel
.
Department of Energy manipulates
energy grid study
to boost coal industry.
Donald Trump signs an
executive order to remove flood protections
from new construction projects.
Department of the Interior
halts health impact study
for communities who live near mountaintop removal mining.
Now that Congress is back in session, we can expect continued attacks on our health and water. Keep up to date with our
Congressional tracker
— and by following Clean Water Action on facebook, twitter, and instagram.
Take action here.
- Clean Water Action